BISHOP TOURISM IMPROVEMENT DISTRICT (BTID) ANNUAL REPORTS
Business Tourism Improvement District Background
Developed by Bishop lodging businesses and the Bishop Area Chamber of Commerce & Visitors Bureau (BACCVB), the Bishop Tourism Improvement District (BTID) is an assessment district designed to provide specific benefits to payors, by funding marketing and sales promotion efforts for assessed businesses. The BTID was initially formed in 2014 for a five (5) year term, beginning January 1, 2015.  The district was renewed last year for a 10-year term, January 1, 2020 through December 31, 2019.
The district includes all lodging businesses located within the boundaries of the Bishop City limits, including hotels, motels, hostels and short term rentals such as AirBnB.  Assessment rate is currently 2% of gross sales and is collected by the City of Bishop at the same time and in the same manner as Transient Occupancy Tax.  BTID funds are then forwarded to BACCVB on a quarterly basis.  BTID funds are used for tourism promotion programs as outlined in the BTID Management District Plan. No proposed changes to boundary, rate or business classifications are proposed for this year.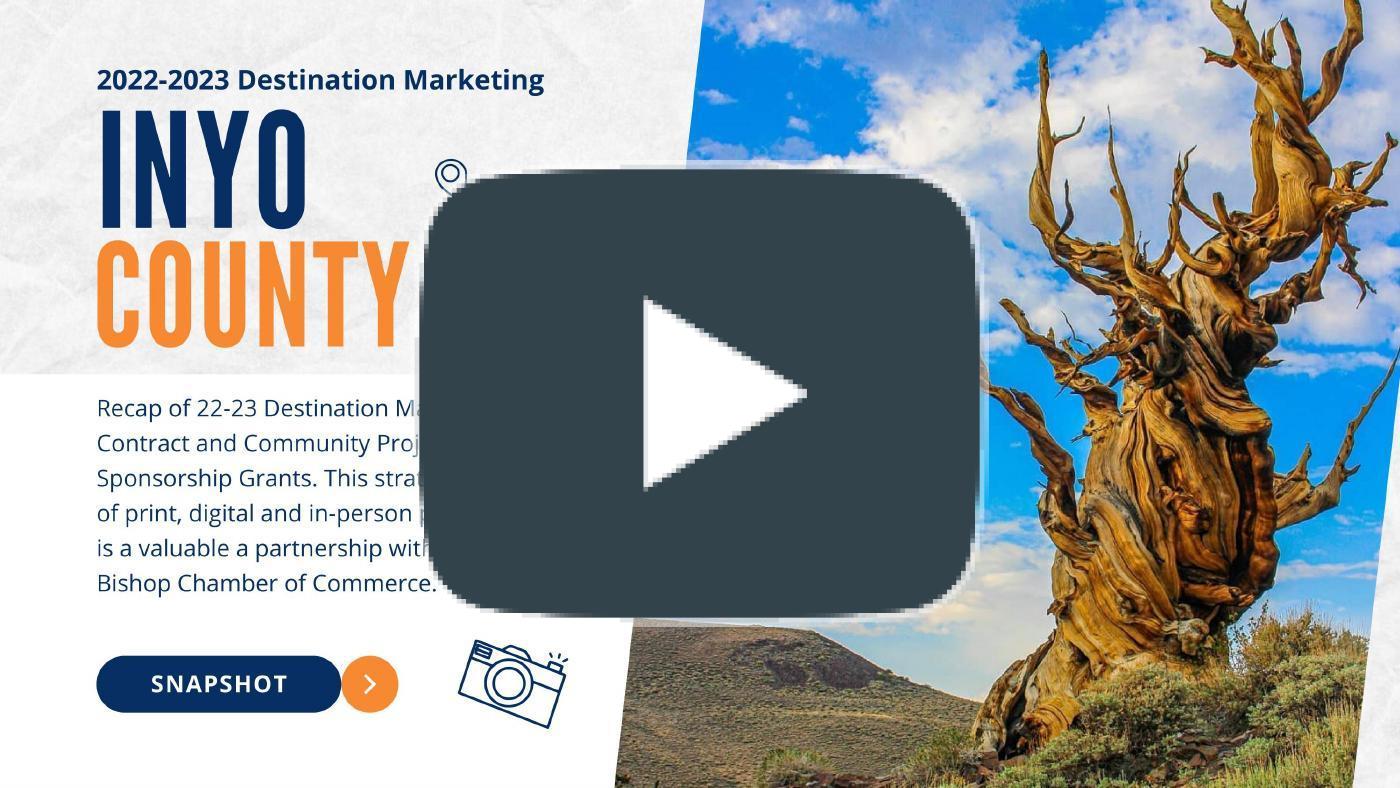 A Message from the Executive Director
2020-2021 required some real concentration and serious strength, just like the athlete on the cover of this report. There were certainly days we felt upside down, but we stayed focused.  The role of our organization changed – no, it expanded. We are no longer just charged with destination marketing, we're now responsible for destination "management." 
What exactly does that mean? It means that we understand increased visitation brings important revenues to our local economy, but that there are also impacts to our community that come along with more guests. Throughout the COVID-19 crisis, we've used our voice with visitors to inform and encourage safe travel and best outdoor practices. Our website has been regularly updated with "know before you go" language to let guests know what local regulations are and what's expected of them. While many DMOs went "dark" on social media, we did not. We cancelled paid ads, but kept our organic communications going.
The role of our organization has forever changed. Not only did we start by delivering masks, hand sanitizer, PPP, and everything except TP, we became partners with the County, with Health and Human Services, the City of Bishop, and our chamber member businesses. We helped with business assistance, rental assistance, business loans, trash cleanup, and building a better community inside out so we would be ready to receive guests when the time was right. 
We used research tools and communications from our travel partners, Visit California, Brand USA, Expedia, Crowdriff, and Simpleview. We reassessed what was important and took the time to generate a new Bishop Visitor Guide. We took the time to create a new History and Birding Brochure from CPSP grants. We took the time to check in with one another and move forward as a team. 
Traveler sentiments have changed as a result of COVID-19.  Cleanliness and health is a top priority. For the next many years, travelers will seek more rural, outdoorsy destinations.  We'll likely see many first-time visitors that need information and education about best outdoor practices to protect themselves and our natural assets. We want guests that behave like friends and family coming to visit our Big Backyard. We'll teach them how to be respectful and careful so we'll want to welcome them back. We've always been strategic with our messaging to attract the "right type" of guest and that philosophy is going to be more important than ever now. If we play the cards correctly right now, Bishop is perfectly positioned to recover and even gain market share in the next few years. And, we can do it in a responsible way.
It is important to understand that this year's budget must remain flexible as we continue to adapt to a fluid financial situation and ever-changing rules and restrictions on businesses and events. 
This report summarizes FY 2020-2021, and I'm proud of the way our organization navigated some very turbulent times. We managed constantly changing coronavirus protocols and a very fluid budget. We don't know exactly what to expect in 2021-2022, but we are optimistic and positioned well to lead our region's recovery. Tourism is the main economic driver for Bishop and we have the skills and tools to get the job done.
We are very grateful to the Bishop lodging community for embracing and supporting the BTID. We're also grateful to chamber members, community supporters, City of Bishop and County of Inyo for believing that if we pool our resources, we can effectively promote our destination for the benefit of all. 
Thank you for partnering with the Bishop Chamber of Commerce and Visitors Bureau.
Sincerely,
Tawni Thomson
Bishop on the Move – by Civitas
The town of Bishop lies within driving distance of some of California's iconic landmarks such as the Sierra Nevada mountains, Mammoth Lakes, Yosemite National Park, and Death Valley. Far from being overshadowed by these well-known destinations, Bishop is a major resort town with its own attractions like the Buttermilk Boulders, and its own claim to fame, like being recognized as a Top 50 Adventure Town by National Geographic in 2011.
While the town could have rested on reputation, Bishop instead decided to pursue further adventure by establishing the Bishop Tourism Improvement District (BTID) in 2014. A 2% assessment became effective on January 1, 2015, with funds set to be used for tourism promotion programs. The programs included carefully considered projects from marketing to trout stocking, as well as tracking and measurement of results.
The Bishop website was rebuilt and launched in January 2018. By 2017, the BTID annual report found: "78.3% are new users. This proves marketing efforts are working to create new interest. The new website is an excellent tool for measuring effectiveness of all marketing investments. The significant increase in organic search indicates brand awareness is increasing – people are searching specifically for Bishop."
In those two years, annual occupancy also increased from 60.7% to 67.0%, equating to nearly 20,000 more room nights per year. There were even some increases in average daily rates during off-peak times.
In January 2019, the Bishop City Council unanimously approved the renewal of the Bishop TID for another 10 years, ensuring ongoing support for the "small town with a big backyard."
BISHOP USED AS A CASE STUDY
Nestled between the mountains of the Sierra Nevada desert, near California's eastern border lies the town of Bishop, known to many as the gateway to a myriad of outdoor activities in the surrounding wilderness.
"Our tagline is 'a small town with a big backyard,' and that's essentially what it is," said Julie Faber, the Digital Marketing Manager for the Bishop Chamber of Commerce and Visitors Bureau. Faber adds that activities range from world-class hiking and bouldering to some of the state's best trout fishing and bike trails. "It's just kind of a Mecca of an outdoor playground."
While the town attracts visitors far and wide through its peak season, the destination had always found it challenging to inspire visits from October through April, in spite of the fact that most of its attractions remain open.
Changing visitor perceptions of winter in Bishop
That is because the nearby town of Mammoth Lakes is well known for being a fantastic winter skiing destination, making it easy for would-be visitors to assume that Bishop is similarly covered in snow throughout the winter.
"Bishop, which is literally 45 minutes down the hill, is a high desert climate, and we don't have snow, but people think we get buried in the winter just because of our proximity," said Faber.
Not only are its hiking trails, rock climbing sites and bike paths open in the winter—with more manageable weather than the summer months—but Bishop is among the few places in the state that can offer fishing in the offseason.
"California as a state entity has a very distinct fishing opening date and closing date," said Faber. "The majority of rivers are closed to fishing, but we just happen to have one of the best fisheries, and the portion that the majority of people fish is indeed open year-round."
> READ THE FULL STORY: How Bishop CVB Captivates and Educates Visitors (CROWDRIFF)